Katharine Mershon, Divinity, University of Chicago
"Beyond Good and Evil: Reading Religion in the American Pitbull"
PLEASE NOTE SPECIAL LOCATION: Walker 302 at 4:30 PM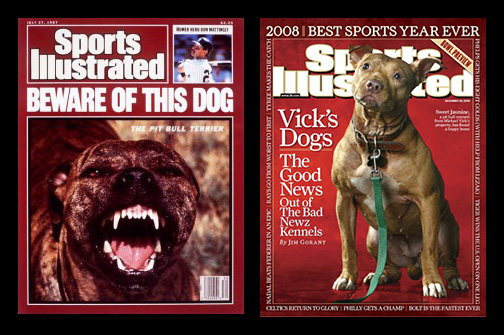 This paper examines the religious rhetoric around rescue animals through the case study of the "pit bull," America's most ubiquitous and difficult to define rescue dog. Focusing specifically on the aftermath of the Michael Vick dog fighting case, I demonstrate the ways in which the pit bull is simultaneously demonized and sanctified in contemporary American culture. Depending on one's attitude toward the dogs, Vick's pit bulls were either represented as being unworthy or deserving of redemption. Through close readings of representations of the Vick dogs in American newspapers and social media, I examine the ways in which the pit bull simultaneously reifies and resists clear religious typologization as "pure good" or "pure evil." In the conclusion, the paper offers some thoughts about how Vick's fate is connected to the dogs he left behind.
Request a copy of the paper by emailing hutch@uchicago.edu.
Light refreshments will be served.
This event is free and open to the public. Persons with disabilities who may need assistance to attend should contact Bill Hutchison (hutch@uchicago.edu).