the Art and Politics of East Asia workshop
presents:
Chelsea Foxwell
Assistant Professor of Art History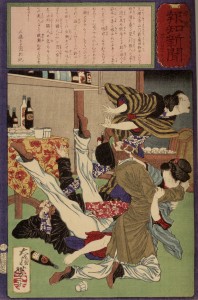 Colorful News:
The Limits of Art & Information in Japanese "Newspaper Prints" of the 1870s
(click title above for link to the paper)
Special Link for Images
Friday, October 1st, from 3:00-5:00pm
in the John Hope Franklin Room
Social Science Research Buidling 224
1126 East 59th Street, Chicago, IL  60637
TO BE IMMEDIATELY FOLLOWED BY A SPECIAL EVENT:
An East Asian Studies Workshop Reception
5:00-6:30 pm in the John Hope Franklin Room
COME ONE and ALL!
FOOD and DRINKS and DISCUSSION!
Meet students and faculty studying East Asia at Chicago!
Learn about WORKSHOPS and their programs for the year!
Jointly sponsored by the following workshops:
Art and Politics of East Asia
East Asia: Politics, Economy, and Society
East Asia: Transregional Histories
Visual and Material Perspectives on East Asia
Literature, Theater, and Cultural History of China, 1500-Present
If you would like to be added to our mailing list and receive workshop updates, please contact maxb@uchicago.edu
Faculty sponsors: Michael Bourdaghs, Paola Iovene
This workshop is sponsored by the Center for East Asian Studies and the Council on Advanced Studies in the Humanities. Persons who believe they may need assistance to participate fully, please contact the coordinator at maxb@uchicago.edu in advance.